Menu
Wine List
Our wine list is arranged by varietals first & then by country where possible. French, Italian & Spanish (Old World) wines are most often named by the area they come from while New World (North & South America, Australia) are usually named by the predominant grape.
White Wines by the Bottle
Chardonnay, Pepperwood Grove 36
2021, South Africa
Vanilla & lemon aromas, apple & biscotti flavors.
Chardonnay, Chalk Hill 40
2020, CA
Toasted hazelnut, vanilla custard & crème brulee.
Chardonnay, Ferrari-Carano 50
2017, Sonoma County, CA
Apple, cinnamon, apricot, quince & hazelnut.
Chablis (Chardonnay), Domaine D'Elise 45
2019, Burgundy, France
Enticing smoky aroma with mineral & citrus flavors.
Viognier Reserve, Barboursville 52
2016, VA
Green apple, honeydew melon, peach, fennel & pollen.
Bordeaux Blanc Sec, Chateau de Parenchere 48
2020, Bordeaux, France
Intense white & citrus aromas with white flower notes.
Sancerre, Moreux Les Bouffants 60
2020, France
Ripe apple & pear notes with citric flavors.
Sauvignon Blanc, Kuranui 36
2020, New Zealand
Pineapple, lime leaf & passionfruit with grass notes.
Sauvignon Blanc, Wairau River 60
2020, Marlborough, New Zealand
Clean & refreshing, tangy with a fruity finish.
Chenin Blanc, Terre Brulee 'Le Blanc' 38
2018, South Africa
Chamomile flowers, tart orange, lemongrass & herbs.
Gruner Veltliner, Stadt's Kreme 52
2021, Austria
Green apple & fresh citrus notes, acidic & savory.
Moscato d'Asti, Marenco Strev 40
2020, Italy
Citrus, apricot, fig & orange blossom. Sweet, yet mild.
Gewurztraminer, Trimbach 55
2017, Alsace
White peach, lychee & apricot.
Pinot Gris/Pinot Blanc, Au Bon Climat 56
2019, Santa Barbara, CA
Dry blend with citrus notes, minerality & a crisp finish.
Pinot Grigio, Spinelli 36
2020, Italy

Bright & fresh melon & citrus flavors.
Pinot Grigio, Terlato 53
2017, Friuli, Italy
Ripe peach, apricot & pear, crisp mineral finish.
Torrontes, 1895 Bodega Norton 36
2020, Mendoza, Argentina
Peach, rose & jasmine aromas. Pleasant & balanced.
Riesling, Urban 36
2020, Mosel, Germany
Fruit & mineral flavors, lively acidity & floral aromas.
Dry Riesling, Trisaetum 50
2017, Willamette Valley, OR
Refreshing with lively acidity; flavor of green apple.
Rose, M. Chapoutier Bila-Haut 40
2021, South of France
Red fruit & gentle floral aromas, crisp & refreshing.
Calafuria Rose, Tormaresca 55
2020, Italy
Peach blossom, pink grapefruit & pomegranate.
Brut, Freixenet Blanc De Blancs 36
N/V, Spain
Refreshingly light & smooth, baked apple & vanilla.
Cava Brut, Biutiful 38
N/V, Spain
Blood orange, raspberry & candied grapefruit.
Prosecco, Lunetta 36
N/V, Italy
Fragrant, with enticing aromas of apple & peach.
Sparkling Rose, Jansz 65
2014, Tasmania, Australia
Notes of rosewater & berries over truffle & brioche.
Schramsberg, Blanc De Noirs 75
2015, CA
Cherry, orange, wild berry & toasted almond.
Moet Et Chandon, Dom Perignon 300
2013, France
Elegant, full-bodied, fresh citrus & spices.
Cabernet Sauvignon, Liberty School 40
2020, Paso Robles, California
Black cherry, plum, strawberry & spice.
Cabernet Sauvignon, Canoe Ridge Vineyard, The Expedition 45
2018, Horse Heaven Hills, WA
Red currant, smoky plum, savory cherry & chocolate.
Cabernet Sauvignon, Ben Marco 50
2021, Argentina
Currant, cassis & plum, hints of spice & acidity.
Cabernet Sauvignon, Honig 80
2018, Napa Valley, CA
Bouquet of blackberry & tobacco, fruit forward flavors.
Cabernet Sauvignon, Caymus (1 litre) 120
2019, Napa Valley, CA
Cocoa, cassis & ripe dark berries
Red Blend, Pendulum 45
2019, Columbia Valley, WA
Cabernet Sauvignon, Grenache, Mourvedre & Malbec.
Frederick Red Wine, Spring Valley 90
2015, Walla Walla Valley, Washington
Notes of ripe plum, vanilla & boysenberry jam.
Pinot Noir, The Wines of Francis Coppola 36
2021, Monterey County, CA
Cranberry, lavender, cherry & red berries, toasty.
Pinot Noir, The Calling 50
2019, Monterey County, CA
White pepper, rose petal & raspberry
Pinot Noir, La Crema 50
2019, Monterey, CA
Black plum, cherry, rhubarb & hints of earth.
Pinot Noir, DuMOL Wester Reach 95
2020, Russian River Valley, CA
Wild berry, spiced plum & underbrushy sweetness.
Saint Romain, Domaine Billard Pere et Fils 60
2019, Burgundy, France
Pinot Noir, tart, red fruit notes with spice.
Cotes Du Rhone, Reserve de Bonpas 36
2020, France
Fresh red fruit, spices, black olives & stone fruit.
GSM Blend, Hahn 50
2020 California
Strawberry, raspberry, black cherry & black pepper.
Gigondas, La Cave L'Hallali 65
2017, Rhone, France
Liquorice & black fruit, soft & elegant tannins.
Beaujolais-Villages, Mommessin Vieilles Vignes 36
2019, Beaujolais, France
Ripe strawberry, raspberry & red cherries.
Pauillac, Echo de Lynch-Bages 98
2017, Bordeaux, France
Nose of truffles over baked plums & cassis.
St. Estephe, Chateau Haut-Beausejour 85
2015, Bordeaux, France
Earthy with red & black berry character.
Merlot, Hyatt Vineyards 36
2018, Washington
Creamy mocha, supple plummy fruit, light oak.
Syrah, Truchard 40
2019, Carneros, CA
Jammy boysenberry, cassis & black pepper.
Shiraz, Schild Estate 50
2018, Barossa, Australia
Plush berry, flavors of dark chocolate & mocha.
Shiraz, Two Hands Angel's Share 85
2015, Barossa Valley, Australia
Mocha, chocolate, plum & peppermint.
Zinfandel, Decoy 36
2021, California
Wild blueberry, plum, vanilla, velvety tannins.
Toscana (Super Tuscan), La Sughere di Frassinello 60
2019, Tuscany, Italy
Deep ruby color, red fruit notes & soft tannins.
Chianti, Badia Al Colle 34
2021 Tuscany, Italy
Rich fruit flavors of cherries & pistachios.
Chianti Classico Riserva, Clemente VII 45
2018, Tuscany, Italy
Toasted oak & baking spice, plum & espresso.
Brunello Di Montalcino, Castello Banfi 110
2017, Tuscany, Italy
Plum, ripe cherry, red fruit & notes of licorice.
Barolo, Rivetto Serralunga 80
2017, Italy
Black cherry & plum, both sweet & intense.
Rioja, Berceo 36
2020, Rioja, Spain
Traditional, cherries, dried flowers, fresh acidity.
Rioja Gran Reserva, Cune 60
2016 Rioja, Spain
Bright & fresh, with cherry, tobacco & smoke.
Priorat, Slates of Bonmont 46
2017, Priorat, Spain
Red currants, blackberry, vanilla, chocolate & jam.
Malbec, La Linda 40
2022, Argentina
Fresh red fruit & spices, lively tannins.
Malbec blend, Clos de los Siete 50
2018, Mendoza, Argentina
Black fruit, pepper & tobacco.
Malbec, Bramare, Vina Cobos by Paul Hobbs 80
2018, Valle de Uco, Argentina
Strawberry, caramel, cinnamon & mint
Antigua Solera, Merryvale (375 ml) 55
2021, California
Orange peel, hazelnut & toffee.
Vidal Ice, Lamoreaux (375 ml) 65
2017, Finger Lakes, NY
Pineapple, apricot & honey, sweet & tart finish.
GF Ask your server how this dish is prepared Gluten Free.
VG This dish is prepared Vegetarian.
VE This dish is prepared Vegan.
* Many of our dishes have nuts or raw ingredients that some people may be sensitive to. Alert your server to any serious allergies.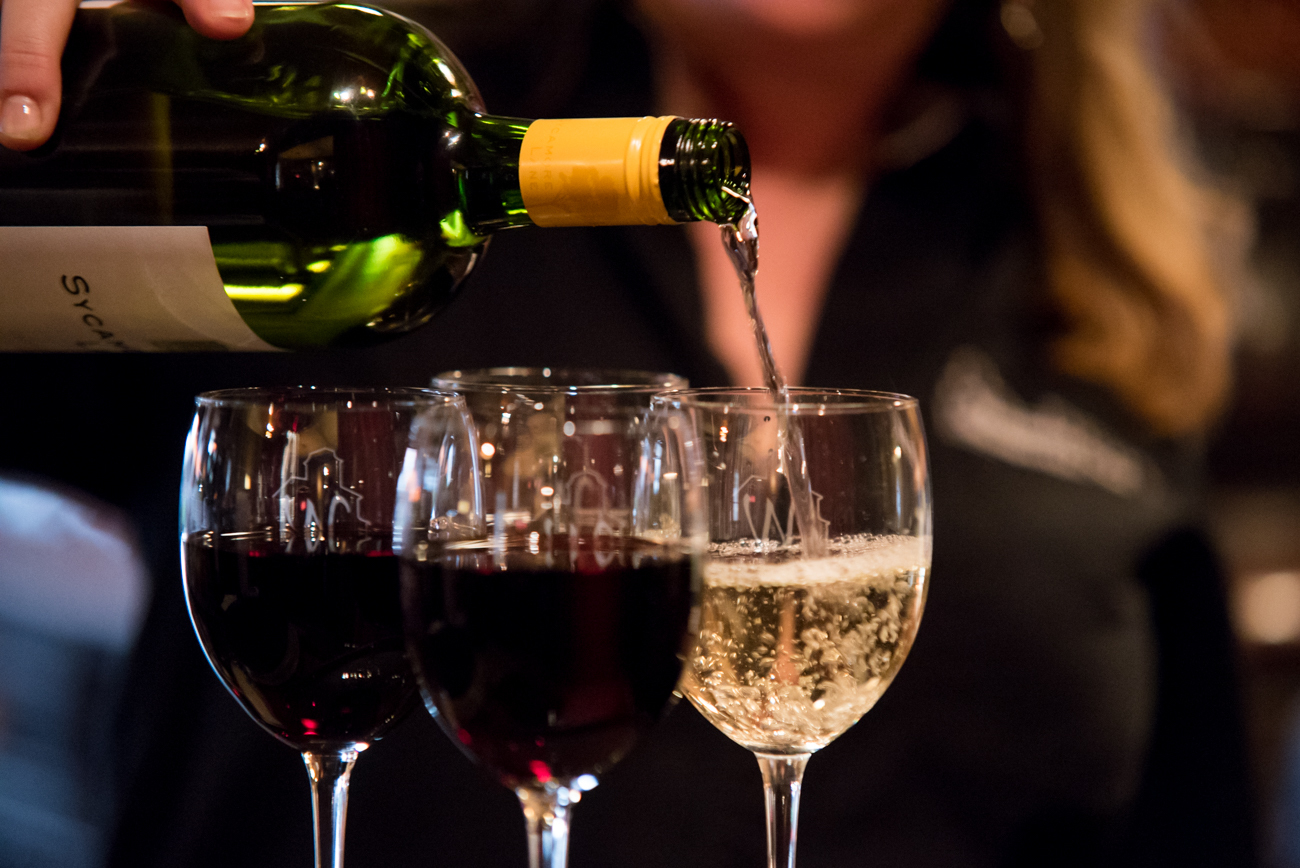 Please arrive fashionably hungry.
Book a Table