Menu
Bar
Bourbon Brown Sugar Old Fashioned 14
Bourbon, Grand Marnier, bitters & brown sugar syrup
Honey Pear Sangria 13
Pinot Grigio, spiced rum, citrus vodka, honey, pear nectar & orange juice
Apple Cider Bourbon Mule 14
Bourbon, apple cider, ginger beer & cinnamon syrup
Fig Magnifico 13
St. Germain, sparkling wine & fig syrup
Ginger Spiced Pear Mocktail 10
Non alcoholic ginger beer, pear nectar & a cinnamon stick
1911 Maple Bourbon Barrel Aged Cider (NY) 10
Limited release sweet hard cider. 16 oz.
ABV: 6.9%
Heavy Seas Great'er Pumpkin Ale (MD) 8
Brewed with real pumpkin, notes of oak, vanilla & bourbon.
ABV: 10%
Double Nickel Weltgeist (NJ) 7
Crushable, crisp & aromatic, brewed with a blend of malts
ABV: 7%
Klosterbrauerei Andechs Weissbier Dunkel (Germany) 12
Tanginess, soft body & light caramel sweetness with fine hop bitterness
ABV: 5%
Weihenstephan Korbinian (Germany) 12
Full-bodied dark doppelbock, dark malt aroma & roasted flavor
ABV: 7.4%
White Wines
Chardonnay, Napa Cellars 13
Sauvignon Blanc, Kuranui 11
Pinot Grigio, Spinelli 10
Chardonnay, Canyon Oaks 8
Cava Brut (Sparkling), Freixenet 8
Red Wines
Rhone Red Blend, Hahn GSM 16
Red Blend, The Pessimist 14
White Zinfandel, Canyon Oaks 8
Workhorse Brewing Golden Ale (PA) 6
Well-balanced & crisp lager with subtle notes of bread & honey.
ABV: 5.0%
Warsteiner Premium Oktoberfest (DE) 8
Authentic German Marzen, mild & smooth with a uniquely soft & hoppy finish.
ABV: 5.9%

Blake's Hard Cider (MI) 7
Classic hard cider with a sweet flavor & smooth finish.
ABV: 6.5%
Free Will Peanut Butter Chocolate Sharing Size (PA) 8
Imperial Milk Stout with peanuts & cacao nibs, snifter.
ABV: 11.8%
Victory Hop Devil (PA) 7
Pine & citrus with malt sweetness.
ABV: 6.7%
Yards Love Stout (PA) 6
Rich, smooth & slightly sweet stout with luscious notes of coffee & chocolate.
ABV: 5.5%
Captain Lawrence Pacific Dawn IPA (CA) 8
West coast style IPA.
ABV: 8%
Deschutes Fresh Squeezed IPA (CA) 7
Juicy blend of citrusy hops balanced by a lively malt body.
ABV: 6.4%
Guinness (Ireland) 6
Perfect balance of bitter & sweet with malt & roast characters.
ABV: 4.2%
Yuengling Lager (PA) 5
Amber color & medium-bodied. Roasted caramel malt. Subtle sweetness.
ABV: 4.5%

Belgian Beer Styles
Chimay Grand Reserve Strong Dark Ale 10
Goose Island Sofie Saison 8
La Chouffe Strong Pale Ale 9
Ommegang Rare Vos Belgian Pale Ale 6
German Beer Styles
Schlenkerla Oak Smoke Doppelbock 15
Sly Fox Helles Golden Lager 5
Weihenstephan Hefe Weissbier 9
English, Irish & Scottish Beer Styles
Yards Brewery English IPA 5
American Beer Styles
Ballast Point Grapefruit Sculpin IPA 7
Deschutes Black Butte Porter 6
Deschutes Fresh Squeezed IPA 7
Dogfish Head 60 Mins IPA 6
New Belgium Fat Tire Amber Ale 5
Wyndridge Crafty Cider (Can) 5
Additional
Not Your Father's Root Beer 6
Vizzy Strawberry Kiwi Hard Seltzer 5
Non Alcoholic Beverages
Stella Artois Liberte Non Alcoholic 5
Weird Weather Non Alcoholic Hazy IPA 5
GF Ask your server how this dish is prepared Gluten Free.
VG This dish is prepared Vegetarian.
VE This dish is prepared Vegan.
* Many of our dishes have nuts or raw ingredients that some people may be sensitive to. Alert your server to any serious allergies.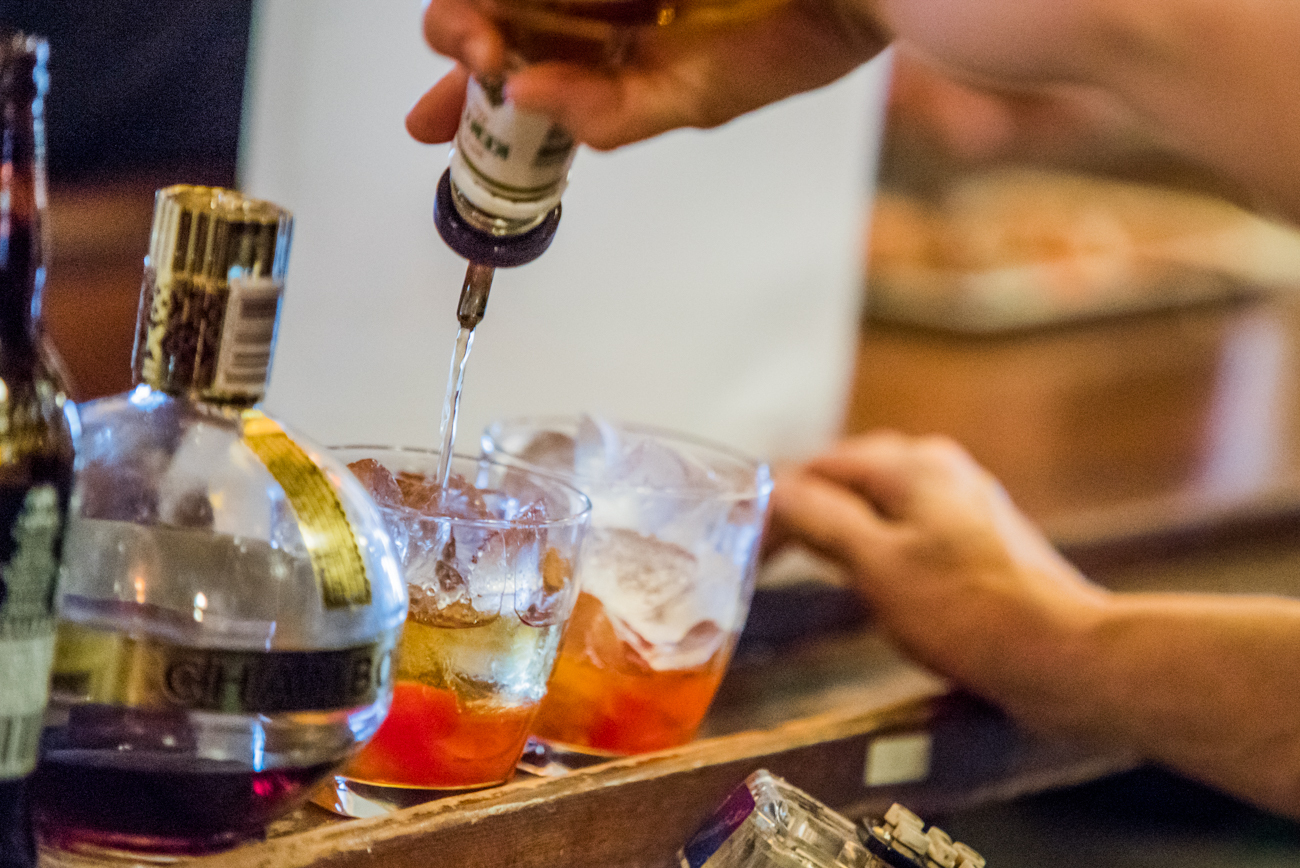 Please arrive fashionably hungry.
Book a Table
Order Takeout