Menu
Wine List
Our wine list is arranged by varietals first & then by country where possible. French, Italian & Spanish (Old World) wines are most often named by the area they come from while New World (North & South America, Australia) are usually named by the predominant grape.
White Wines by the Bottles
Chardonnay, Santa Rita 120 32
2018 Chile
Apple, peach, melon aromas. Fruity & clean.
Chardonnay, Toasted Head 40
2017 CA
Peach & tangerine with spice, butter & big oak.
Chardonnay, Freemark Abbey 55
2015 Napa Valley, California
Lemon-lime, green apple, fleshy peach notes.
Chardonnay, Reserve, Chateau St. Jean 65
2014 Sonoma, CA
Fresh, lightly buttery with golden apple, pear & citrus.
Chardonnay, Ferrari-Carano 50
2017 Sonoma County, CA
Apple, cinnamon, apricot, quince & hazelnut, toasted.
Dutton Ranch Chardonnay, Patz & Hall 75
2016 Russian River Valley, Sonoma, CA
Fuji apple, pear tart & peach. Spicy overtones.
Chablis, Domaine D'Elise 45
2018 France
Enticing smoky aroma with mineral & citrus flavors.
Viognier Reserve, Barboursville 52
2016 VA
Green apple, honeydew melon, peach, fennel & pollen.
Sancerre, Jean-Marc et Mathiew Crochets 50
2019 Loire, France
Lime, green apple, clean crisp minerals.
Sauvignon Blanc, Vigilance 36
2019 Lake County, CA
Modest fruit flavors with appealing savory, mineral notes.
Sauvignon Blanc, Groth 42
2016 Napa Valley, CAA
Lush, full melon & citrus character.
Sauvignon Blanc, Cloudy Bay 50
2017 Marlborough, New Zealand
Notes of elder flower, lime zest & stone fruit.
Chenin Blanc, Terre Brulee 'Le Blanc' 36
2018 South Africa
Chamomile flowers, tart orange, lemongrass & herbs.
Gruner Veltliner, Zocker 38
2016 Edna Valley, CA
Earthy, notes of white pepper, melon & fruit cocktail.
Moscato, Seven Daughters 36
2016 Italy
Sweet floral aroma with peach & honey notes.
Gewurztraminer, Trimbach 40
2015 Alsace, France
Cinnamon, nutmeg & rose petal with spicy finish.
Pinot Gris, Erath 35
2016 OR
Nectarine & spice with a lingering, open finish.
Pinot Grigio, Montefresco 30
2018 Italy
Stony, mineral-driven with white stone fruits & flowers.
Pinot Grigio, Terlato 45
2017 Friuli, Italy
Ripe peach, apricot & pear, crisp mineral finish.
Riesling, Urban 36
2018 Mosel, Germany
Fruit & mineral flavors, lively acidity & floral aromas.
Dry Riesling, Trisaetum 40
2017 Willamette Valley, OR
Refreshing with lively acidity; flavor of green apple.
Gold Riesling, Eroica (375 ml) 35
2015 Columbia Valley, WA
Orange zest, pear & cinnamon with a crisp finish.
White Zinfandel, Sutter Home 25
2018 California
Lightly sweet & incredibly refreshing.
Rose, Stemmari 32
2018 Sicily, Italy
Juicy strawberry, crushed raspberry & black cherry.
Rose, M. Chapoutier 40
2018 France
Fresh, delicate & fruity with strawberry notes & silky mouthfeel.
Champagne & Sparkling Wines
Moscato, Flare 34
N/V Spain
Vibrant with apricot, white peach & sage.
Freixenet, Blanc De Blancs 25
N/V Spain
Light & soft baked apple with vanilla flavors.
Lunetta, Prosecco 36
N/V Italy
Refreshing crisp fruit flavors with clean finish.
Rotari, Rose Metodo Classico 45
2014 Trento, Italy
Elegant & traditional with red berry fruit notes.
Schramsberg, Blanc De Blancs 70
2015 CA
Cherry, orange, wild berry & toasted almond.
Moet Et Chandon, Dom Perignon 198
2008 France
Lively, generous & elegant with bright fruitiness.
Cab. Sauv., Ancient Wisdom Alexander Valley 36
2015 Sonoma County, CA
Black currant & dried black cherry with a smooth finish.
Cab. Sauv., Canoe Ridge Vineyard, The Expedition 45
2017 Horse Heaven Hills, WA
Red currant, smoky plum, savory cherry & chocolate.
Cab. Sauv., Columbia Crest Reserve 60
2012 Columbia Valley, WA
Graphite, blueberries & caramel with a lingering finish.
Cabernet Sauvignon, Honig 70
2016 Napa Valley, CA
Bouquet of blackberry & tobacco, fruit flavors.
Cabernet Sauvignon, Caymus 120
2018 Napa Valley, CA
Cocoa, cassis & ripe dark berries
Cabernet Sauvignon-Graciano, Pablo Claro 40
2015 Spain
Black fruit, vanilla & cedar. Biodynamic & full-bodied.
Red Blend, Pendulum 45
2017 Columbia Valley, WA
Cabernet Sauvignon, Grenache, Mourvedre & Malbec.
Frederick Red Wine, Spring Valley 90
2014 Walla Walla Valley, Washington
Notes of ripe plum, vanilla & boysenberry jam.
Pinot Noir, Elouan 35
2017 OR
Touch of spice & fresh Bing cherry. Bouquet of earthiness.
Pinot Noir, La Crema 50
2017 Monterey, CA
Black plum, cherry, rhubarb & hints of earth.
Pinot Noir, Ponzi 60
2017 Willamette Valley, OR
Light mouth, full flavors of smoke, herbs & cherry.
Pinot Noir, Duckhorn Migration 65
2017 Sonoma, CA
Blackberry, raspberry & cranberry with subtle toasty oak.
Bourgogne Hautes-Côtes de Beaune Rouge, Domaine Billard Pere et Fils 60
2018 Burgundy, France
Cherry, raspberries, thyme, leather & wild flowers.
Cotes Du Rhone, Samorens Ferraton Pere & Fils 36
2017 France
Soft color, oak, vanilla, pepper, cherry & chocolate.
Gigondas, E. Guigal 70
2014 South Rhone, France
Tastes of spice; nose of blackberry, cherry & melon.
Beaujolais-Villages Vieilles Vignes, Mommessin 38
2017 Beaujolais, France
Bright & juicy, full of red cherries with touch of pepper.
St. Emilion Grand Cru, Chateau Tour Renaissance 70
2017 Bordeaux, France
Intense red fruit with woody mark.
St. Estephe, Chateau Haut-Beausejour 85
2015 Bordeaux, France
Earth centered with red & black berry character.
Merlot, Chateau Ste Michelle Indian Wells 36
2017 Columbia Valley, WA
Berry & jam flavors typical of Wahluke Slope reds.
Shiraz, Tournon 45
2017 Australia
Dark ruby. Deep with black fruits & pepper aromas.
Truchard, Syrah 40
2017 Carneros, Napa Valley
Jammy boysenberry, cassis & black pepper.
Shiraz, Schild Estate 50
2017 Barossa, Australia
Plush berry & flavors of dark chocolate & mocha.
Shiraz, Two Hands Angels' Share 65
2015 Australia
Mocha, chocolate, mulberry, plums & peppermint.
Petite Sirah, Concannon Conservancy 36
2017 CA
Rich nose of fresh blackberries, cedar & mocha.
Zinfandel, Parducci 35
2017 Mendocino County, CA
Blackberry & sweet cherry with coffee & cocoa.
Zinfandel, Sebastiani 50
2015 Sonoma County, CA
Spicy with raspberries, blackberries & vanilla.
Super Tuscan, Casali di Bibbiano Argante 45
2010 Italy
Tobacco & liquorice aromas. Clean & lively flavor.
Chianti, Salcheto (Organic) 35
2018 Italy
Light with tart cherries & fresh plum.
Castello di Volpaia Chianti Classico 50
2017 Tuscany, Italy
Smooth & good structure with notes of red fruit.
Brunello Di Montalcino, Molino Di Sant'Antimo 80
2014 Tuscany, Italy
Spice, licorice, dried cherry & rosemary oil.
Barolo, Rivetto Serralunga 80
2014 Italy
Black cherry & plum, both sweet & intense.
Rioja, Vina Real Crianza 36
2016 Spain
Structured & round with frutiness & oakiness.
Rioja Gran Reserva, Carlos Serres 50
2010 Spain
Vanilla & cinnamon, velvety smooth, fresh finish.
Priorat, Clo Berenguer 46
2016 Priorat, Spain
Cherry & berry flavors w/ mountian herbs & vanilla.
Carmenere, Casa Silva 48
2018 Chile
Ripe black fruits, boysenberry & hints of tobacco.
Malbec, El Portillo 36
2019 Argentina
Violet, good structure, medium acidity & long finish.
Malbec Reserve, Pasqual Toso 70
2015 Mendoza, Argentina
Round & inviting with plenty of fruit & tannins.
GF Ask your server how this dish is prepared Gluten Free.
VG This dish is prepared Vegetarian.
VE This dish is prepared Vegan.
* Many of our dishes have nuts or raw ingredients that some people may be sensitive to. Alert your server to any serious allergies.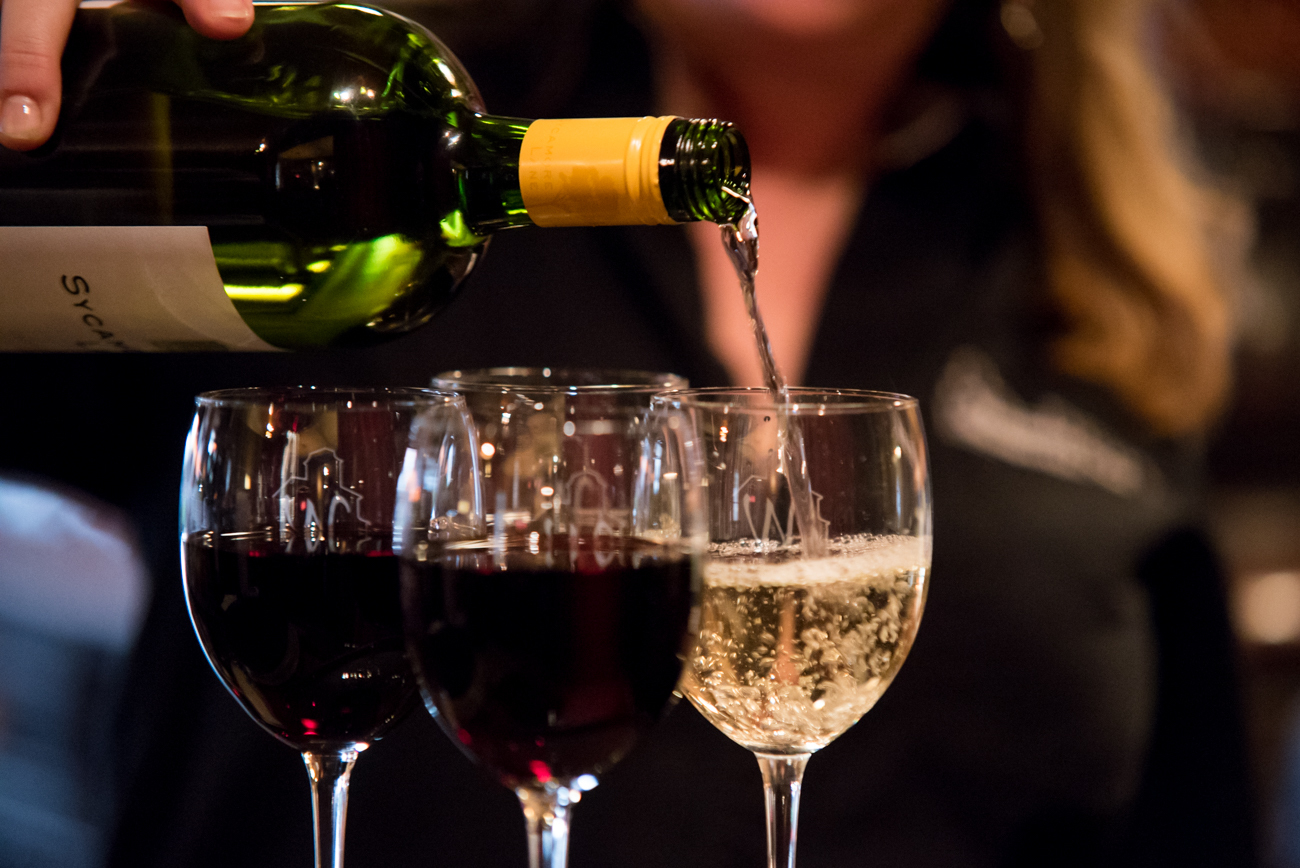 Please arrive fashionably hungry.
Book a Table
Order Takeout