Menu
Bar
Aviation 14
Faber gin, house made cherry infused brandy, lemon and creme de violet, with a brandied cherry
Cucumber Paloma 12
Cucumber vodka, grapefruit juice, and club soda, with a rosemary sprig
Spring Toddy 12
Heaven Hill bourbon, St Germain, honey, lemon and camomile
Rhubarb Spritz 10
Champagne and rhubarb syrup, with orange liqueur and bruised mint
Mezo Mojito 12
Tequila, lime juice raspberry honey syrup, mint and club soda
Dogfish Head Campfire Amplifier 8
Milk stout brewed with marshmallows, graham crackers, cocoa nibs, cinnamon, vanilla and smoked malt. ABV: 6.5%
Flying Fish Winter Cru 7
Belgian-style golden ale with hints of cinnamon and nutmeg. ABV: 7%
Yards Brewing Jefferson's Golden Ale 6
Complex golden ale brewed with flaked oats, rye, wheat and local honey from Fruitwood Orchards. ABV: 8%
Sierra Nevada Celebration IPA 6
Complex and robust with fresh hops. Layered pine and citrus balance rich, malty caramel sweetness. ABV: 6.8%
Boulevard Dark Truth Stout 8
Sweet, bitter and dry with the smoky flavors of malts, coffee, dark fruit and Belgian yeast. ABV: 9.7%
White Wines
Pinot Grigio, Monte Fresco 9
Chardonnay, Canyon Oaks 7
Cava, Freixenet Blanc De Blanc Brut 7
Red Wines
Cabernet Sauvignon, Bonanza 12
Red Blend, Prayers Of Sinners 10
White Zinfandel, Canyon Oaks 7
Ommegang My Watch Has Ended (NY) 8
Imperial brown ale brewed with maple syrup. Rich notes of cocoa & toffee.
ABV: 8.0%
Guinness (Ireland) 6
Perfect balance of bitter & sweet with malt & roast characters.
ABV: 4.2%
Peroni Nastro Azzurro (Italy) 5
Crisp & refreshing with a delicate balance of bitterness, citrus & spicy aromatic notes.
ABV: 5.1%
Lone Eagle Brewing Incognito Black IPA (NJ) 8
Cascadian ale that pours dark with a nice creamy head
Founders Porter (MI) 6
Pours silky black with a creamy tan head, full flavors of chocolate & caramel malts.
ABV: 6.5%
Sweet Water HAZY IPA (GA) 6
Double dry hopped with juicy flavors of mango, stone fruit, lime and pine.
ABV: 6.2%
Evil Genius Santa!! I Know Him! (PA) 8
Deep and complex holiday Saison brewed with camomile, black currants and dark Belgian candy syrup. ABV: 7.2%
Stoudt's Scarlett Lady Ale (PA) 5
Brewed with caramel malts for rich & smooth malty ale.
ABV: 5%
Yuengling Lager (PA) 5
Amber color & medium-bodied. Roasted caramel malt. Subtle sweetness.
ABV: 4.5%

Victory Winter Cheers (PA) 7
Hazy wheat ale with a full, robust body. Incredibly smooth and easy to drink.
ABV: 6.7%
Belgian Beer Styles
Chimay Grand Reserve Strong Dark Ale 10
Goose Island Sofie Saison 8
La Chouffe Strong Pale Ale (25 oz.) 18
Ommegang Rare Vos Belgian Pale Ale 6
Unibroue La Fin Du Monde Tripel 8
German Beer Styles
English, Irish & Scottish Beer Styles
Yards Brewery English IPA 5
American Beer Styles
Ballast Point Grapefruit Sculpin IP 7
Deschutes Black Butte Porter 6
Dogfish Head 60 Mins IPA 6
Duck-Rabbit Nut Brown Ale 5
Free Will Techno IPA (16 oz. can) 6
New Belgium Fat Tire Amber Ale 5
Wyndridge Crafty Cider (Can) 5
Additional
Newground Hard Dutch Cafe Latte 5
Not Your Father's Root Beer 6
Non Alcoholic Beverages
Pellegrino (1 lt) 8 or Pellegrino (16 oz.) 5
Clausthaler Non Alcoholic 5
GF Ask your server how this dish is prepared Gluten Free.
VG This dish is prepared Vegetarian.
VE This dish is prepared Vegan.
* Many of our dishes have nuts or raw ingredients that some people may be sensitive to. Alert your server to any serious allergies.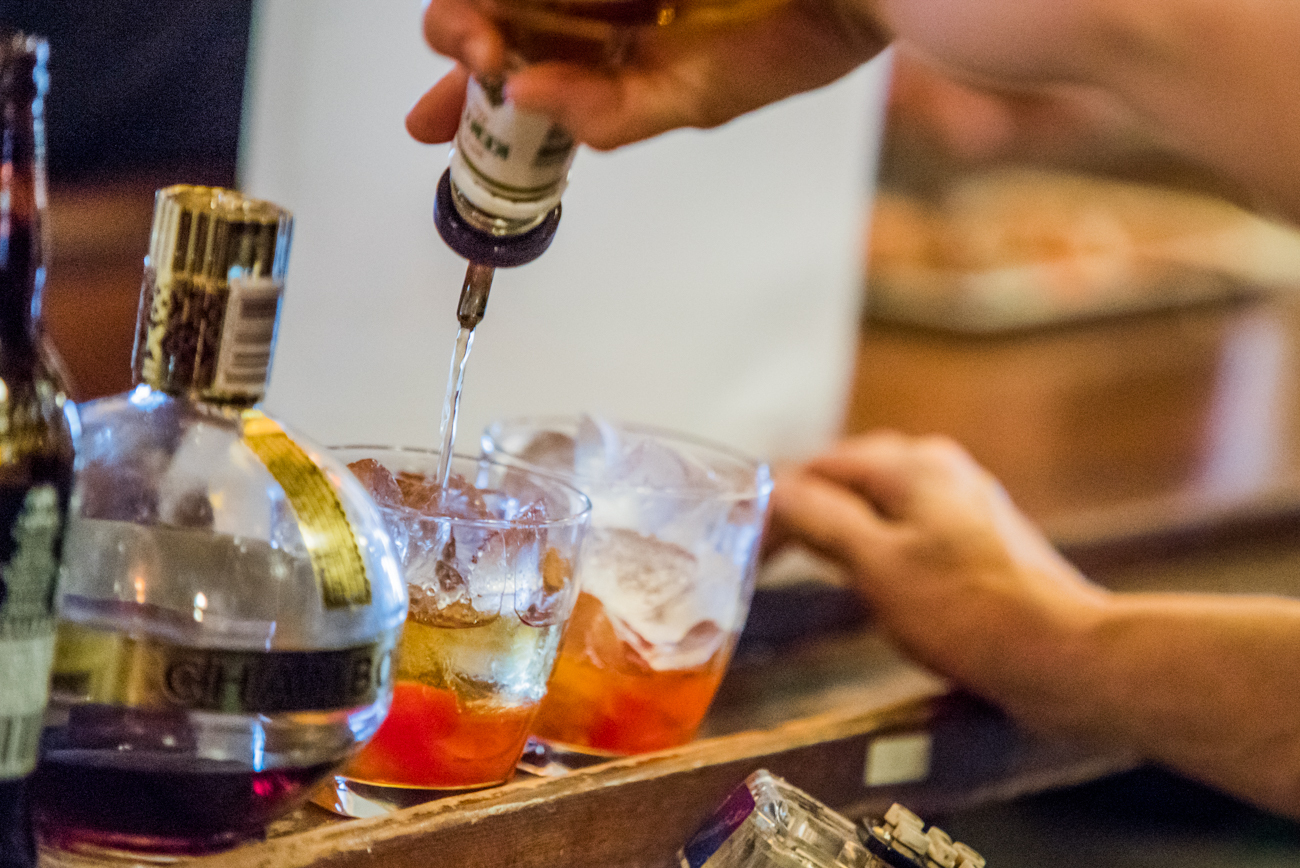 Please arrive fashionably hungry.
Book a Table
Order Takeout